This shop has been compensated by Collective Bias, Inc. and its advertiser. All opinions are mine alone. #GPHolidayAtHome #CollectiveBias
I think everyone agrees that expenses can get outrageous during the holiday season. It can cause a lot of stress and strain on finances. Some extra expenses are inevitable, but these tips for making your dollar go further during the holidays that can really help your pocketbook!
Tips for Making Your Dollar Go Further During the Holidays
Plan Ahead for Guests
One thing that costs more during the holidays is GUESTS. I always want to make my guests feel at home and if I can do that without breaking the bank I do.
Having guests typically means needing more supplies. We go through a lot when we have family gatherings at our house. Planning ahead for guests is really important in order to keep expenses down. Find out how many people will be at the party so you have enough, but don't over buy.
Stock Up on Supplies
There are three products that I always keep on hand, but need MORE of when we are hosting holiday events. I like to stock up on these supplies when I am at Dollar General.
Sparkle® Paper Towels, Mardi Gras® Napkins and Dixie® Paper Plates are staples in my pantry. I know my guests will have everything they need in the kitchen when my cupboard is stocked and ready!
I love buying the Sparkle® Paper Towel, 6 Roll package because I don't have to worry about running out of paper towels with company over.
Dixie Ultra® paper plates can hold up to 2 pounds of food. I feel confident letting my guests load their plates with spinach balls, mini cheese balls and other delicious foods during the party.
Mardi Gras® napkins are in a basket on the table so guests can clean their hands after they eat the kind of messy bacon wrapped sausage jalapeno poppers that are always requested!
Hover over the image below to shop for these holiday essentials!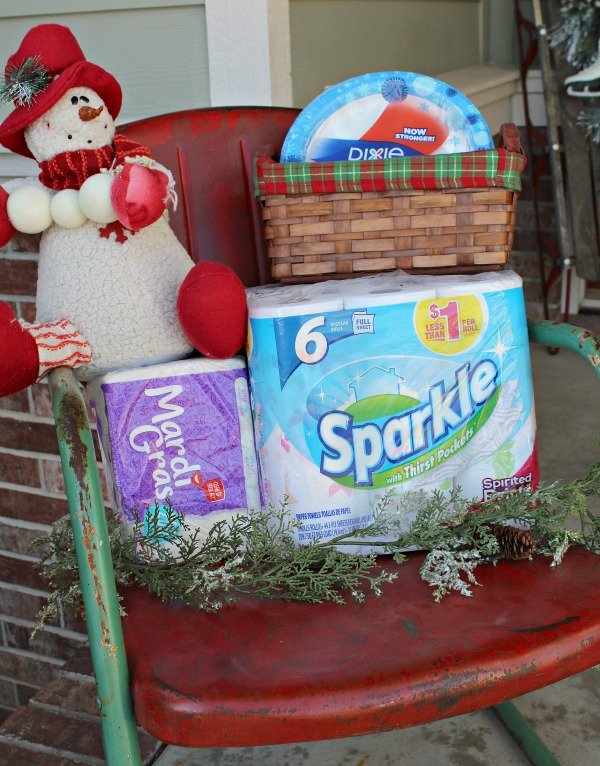 Keep It Local
One tip for making your dollar go further during the holidays is to keep it local. I save money on gasoline when I stock up on supplies at my local Dollar General store. It is just down the road and they always have what I need at great prices.
Shopping locally as much as possible saves me time and money….both of which are valuable during the holidays. If I do have to make a run to another place I try to stack my errands so I only have to go once!
Eat Simpler When Possible
I spend a lot of extra money during the holidays on "special" foods to make cookies, treats and big meals. To help offset this cost I try to make simpler meals the rest of the time.
Easy meals are usually cheaper. We may have Cajun Ham & Beans a few times this month because it is a hearty, filling and CHEAP meal to make.
Think about meals that are easy on the wallet to help offset other expenses during the holidays.
Turn Off the Lights
I have two Christmas trees inside and one on the porch. There are also yard lights and other various decorations that have to be plugged in. If I leave all of this stuff on all month long…my electric bill is going to show it.
Turn off the Christmas lights when you are at work and when you are sleeping. This will help make your dollar go further during the holidays for sure.
How Do You Make Your Dollar Go Further During the Holidays?
What is your favorite tip for making your dollar go further during the holidays? Be sure to click HERE to find your local Dollar General. You can stock up for the holidays and make your dollar go further with these awesome Georgia-Pacific essential products at Dollar General. Starting 11/19/17 through 12/23/17 only, Buy 3 Participating Products, Save $3! Let me know what you get!
(Valid on Angel Soft® 12 Family / 12 Big Lavender, Sparkle® 6 Roll, all QNUSS 9 Mega and QNUP/QNUSS 12DR, Dixie® Everyday 9in 86 ct, Dixie Ultra® 10in 44ct, Brawny 6 Large Roll, Mardi Gras 200 ct)